Thoughts to Live by
Rev. 14:6 – "Then I saw another angel flying directly overhead, with an eternal gospel to proclaim to those who dwell on earth."
During the Reformation this text was used to refer to Luther's ministry and the Lutheran message: we have an eternal Gospel to proclaim. Christ has freed us from our sins without any works on our part. We are saved by grace alone. And, ironically enough, Luther said this should make him the "apostle of works" because once we are freed by grace, we are truly free to serve God in works that flow from thankfulness and praise.
The Church Offering
August 2019
Have you ever noticed the subtle ceremony of receiving the offerings during the Divine Service? The offerings are collected in plates or baskets, and they are brought forward and given to the pastor or an assistant. The pastor turns toward the altar, and, as he slightly bows his head, the offerings are raised slightly to the Lord and placed on the altar or an adjacent table.
Why do we have this ceremony? And what does it teach us? For that is what ceremony does – it teaches, as the Augsburg Confession tells us what we need to know about Christ (AC XXIV, 1–3).
Originally, this ceremony included more than simply bringing forward what was collected in the offering plates. The elements for the Holy Communion – the bread and the wine – were brought forward with the offerings. The offerings and elements were lifted toward the Lord and placed upon the altar. The altar, now made a table, would be set for the Lord's Supper.
Gifts brought to the altar come from the sweat of His people's brow. They are the bread and wine, the fruits of His people's labor in this fallen world. After six days of labor and toil, the people are to bring a generous proportion for the Lord's work. Gifts set upon the altar are offered to the Lord for Him to take up and press into service for His gracious work.
For what is offered to the Lord from the sweat of His people's brow – the bread of anxious toil – comes back to us as the bread of life. The bread comes down from heaven that whoever eats this bread and drinks this cup will receive life through the forgiveness of their sins.
This is not unlike what the Lord did for His people in the Old Testament:
"You shall tithe all the yield of your seed that comes from the field year by year. And before the Lord your God, in the place that he will choose, to make his name dwell there, you shall eat the tithe of your grain, of your wine, and of your oil, and the firstborn of your herd and flock, that you may learn to fear the Lord your God always. And if the way is too long for you, so that you are not able to carry the tithe, when the Lord your God blesses you, because the place is too far from you, which the Lord your God chooses, to set his name there, then you shall turn it into money and bind up the money in your hand and go to the place that the Lord your God chooses and spend the money for whatever you desire – oxen or sheep or wine or strong drink, whatever your appetite craves. And you shall eat there before the Lord your God and rejoice, you and your household." (Deut. 14:22-26)
What a blessing! God provides for us in all things. He provides bread from the sweat of our brows. He receives this from us in the first-fruits offerings we give to Him in thanksgiving and praise, and He turns these into spiritual bread. He gives this heavenly bread – the bread of eternal life – back to us so we might have joy.
So, the next time you are in the Divine Service, watch this ceremony in wonder. The offerings we have given to Him, the Lord gives back to us in His supper so that we may rejoice in the salvation He won for us upon the cross.
Stewardship Newsletter for October2019
In the early morning hours of Feb. 18, 1546, Martin Luther closed his eyes forever. And the hand that hammered the 95 Theses into the door of the Castle Church in Wittenberg on Oct. 31, 1517, penned its final words:
"We are all beggars. This is true."
And this is the truth that our Lord says makes you free. Ironic, isn't it? That, in order to be free, you must be a beggar; you must be utterly dependent and reliant upon God. This makes us uncomfortable – the way we're uncomfortable when someone gets us a Christmas or birthday present when we haven't gotten them one. We feel we owe them. And we don't much like being in someone's debt.
But what Luther would remind us is that we are all indeed beggars. But we're not just anyone's beggars. We're God's beggars. And this is His legacy to the Christian Church. Christ came for sinners. He came to seek and save the lost. He came to heal the sick and raise the dead. He came for sinners, and He dwells only with sinners.
And, if we are to be where He is, we must be willing to be counted among the lost, the sick, and the dead. We must be willing to be beggars. We must cry out for mercy, for grace, and for his undeserved love and kindness. We must be dependent solely on Him and what He gives.
And here's the beauty: He gives us everything. Everything – forgiveness of sins, salvation from death and the devil, and eternal life. This is not because of any worthiness or merit in us, but it is because of His divine goodness, mercy, and grace.
On account of Christ's death and resurrection, the Father forgives you, saves you, and is pleased with you. And you receive. You receive His love, His righteousness, His holiness, His acceptance, and His inheritance. We are all beggars. This is true.
This is the heart and soul of Christianity and the life-blood of the Christian Church. God justifies us, and He declares us innocent and righteous by His grace received through faith for the sake of Christ. This is not because of our works; this is because of His work on the cross. We, who once were enemies of God, are reconciled to Him and made to be His children.
This is what Luther would point us to when He took up his pen for the last time and scribbled "We are all beggars. This is true." We are beggars. But we are beggars of the God who does not ignore us, who doesn't pass by us on the other side. We are beggars of the One who descended from heaven to make His dwelling with sinners.
We are beggars of Him who deigns to dwell with us, among us, and – yes – even in us by grace for Christ's sake. For in the bread and cup that we bless, we share together with Christ and each other the riches of God's grace.
So inexhaustible are the riches of this grace – the Gospel in sermon and absolution, in Baptism and Holy Communion – that our cups overflow. We, who are God's beggars, are not only inexhaustibly satisfied but have something to give back in thanksgiving and praise.
Stewardship Newsletter for November2019
St. Paul wrote to the Church of Christ in Corinth: "Each one must give as he has decided in his heart, not reluctantly or under compulsion, for God loves a cheerful giver" (2 Cor 9:7). God loves a cheerful giver. But who is a cheerful giver?
Abel was. By faith, Abel gave the firstborn of his flock, and it was acceptable in God's sight. Abraham was. By faith, Abraham prepared cakes and a tender choice calf for God and entertained angels unaware. So also were David and Solomon. By faith, David would not make a sacrifice to God that cost him nothing, so he paid Araunah his due. By faith, Solomon built a house for God, where his name would dwell and thereby where He would dwell to be Israel's God and they His people.
What more shall I say? For time would fail me to tell of all those who gave not simply for the joy of giving but for the joy of knowing the One to whom they gave.
So also our Lord, who for the joy set before Him, gave everything, yes, even His life, enduring the cross and scorning its shame. He gave to the shedding of His blood, willingly and resolutely setting His face toward Jerusalem to die for the life of the world. Though He was rich in every way, He became poor, so that by His poverty we might be rich beyond measure.
So then, let us – like Abel and Abraham, like David and Solomon, and even like our Lord Jesus Christ – give cheerfully to God for the work of His kingdom in our midst. Like them, let us decide in our heart – for the joy set before us – the joy of knowing the One to whom we give is the One who gives us all good things.
---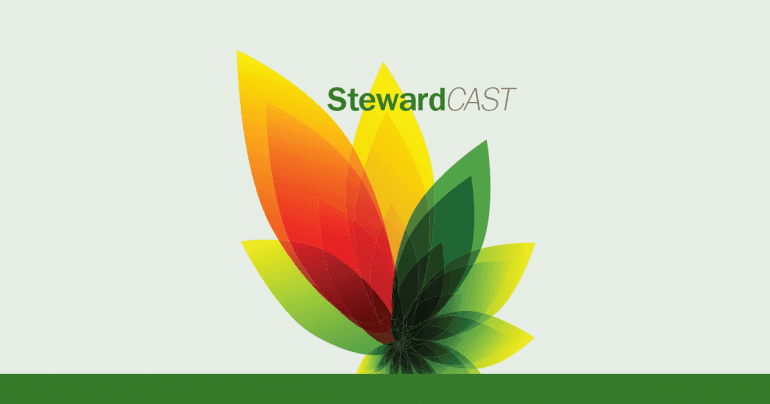 StewardCAST - October2019
In the October 2019 issue of StewardCAST, LCMS Stewardship Ministry discusses how stewards should use a "just-right" grip with the gifts that God has entrusted to them. This "just-right" grip allows stewards to serve their neighbors and to glorify the Lord.
Too often, though, stewards grip these gifts too tightly, causing stinginess and hindering the work of the Gospel. It is impossible to be a faithful steward when gifts from God are gripped too tightly.