Pastor's Note
Saturday, March 21, 2020
Written by Pastor Anthony J. Iovine
Yesterday, I received a call from a friend in South Carolina who was concerned that I wasn't listening to my doctors during our current Covid-19 fight. Essentially he wanted to know if I was going out, raising the possibility that I could catch the virus, and since I had a heart issue in December, I would be at greater risk at getting infected.
I admit - I've gone out many times this week. I have driven to church in New Milford four days this week; traveled over to church in Garfield three times. Supermarket visits were greater this week than usual. On Tuesday, I picked up bananas at PriceRite in Garfield. On Wednesday, I picked up some oranges, apples, pears, and oats at ShopRite in New Milford. On Thursday, I went to Walmart in Garfield to see if they had blueberries - they did, and I picked up those. And yesterday, I went out for a drive, making my first stop at Stew Leonards in Paramus where I picked up navel oranges and a red pepper and making my last stop at Walmart in Teterboro where I picked up toothpaste and sponges. Otherwise, I've been locked up at the house.
"Anthony, you have to be careful," my friend said.
When I told him my shopping list for the week, he kind of laughed. Giggled, maybe. He wondered if I had anything in my refrigerator. Even after I told him that I just finished making a recipe I found on Dr. John McDougal's website - Mexican Rice Soup - he said he didn't believe me. So I snapped a picture and sent it to him.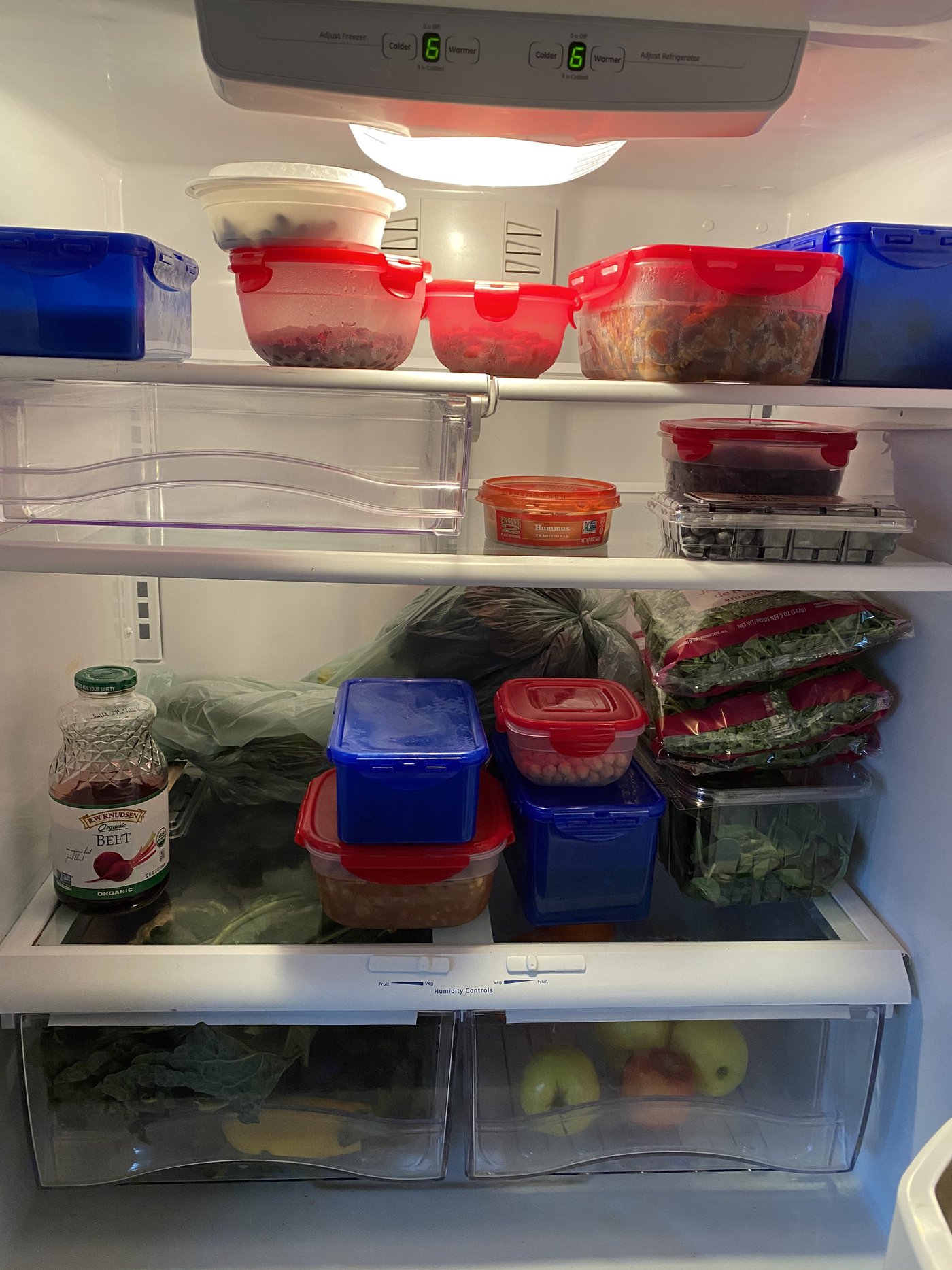 I have plenty of kale and spinach greens, arugula, beans of many kinds, beet juice, red beets, zucchini, apples, oranges, hummus, homemade oat milk, butternut squash, chili and the soup.
"Buddy, I'm hoping you have enough toilet paper. With all that fiber it sounds like you'd need it."
------------
It appears as though Governor Phil Murphy is ready to impose a mandatory shutdown of all non-essential businesses throughout the Garden State. And if you haven't guessed, a church is not considered an "essential business" by the guidelines the governor is prepared to issue. That means church is going to be closed for longer than we anticipate.
------------
Tomorrow morning, I'll be uploading my weekend sermon to the site.
---
A Reading from Holy Scripture
Romans 8:24-25
"For in this hope we were saved. Now hope that is seen is not hope. For who hopes for what he sees? But if we hope for what we do not see, we wait for it with patience."
A Thought on Romans 8:24-25
When I was at Walmart yesterday, for the first time in more than a week the checkout lines weren't that long. Being that I only had two items, shorter lines made me smile since being online (or inline, for some of the grammar-kings who complain one cannot be "online" to checkout, only "inline" to checkout) would violate the "social distancing" rules we're supposed to live by, I went to the "self-serve" checkout lines. Walking up to the checkout machine, I scanned the Walmart app from my phone, scanned the two items I was buying, and ... they didn't have any bags.
And I forgot my reusable bag in my car. But since Teterboro hasn't banned plastic bags yet like my city of Garfield, I figured that there would be some kind of bag in the checkout area.
Nope. No bags. No the end of the world - I had two items: Sensodyne Pronamel toothpaste and a three sponge pack. After paying through the app, I picked up my items and started to walk out, when...
A man at one of the other checkout machines was decrying that there weren't any bags. He had a cart full of items, so I guess not having any bags to put the soda and potato chip bags he was buying in mass quantities would be kind of a problem. He screamed at an employee who tried to calm him with a promise to find him some bags, to which he responded very angrily to her. I turned and l glanced at the guy with a "hey dude, calm down" look on my face. To which he responded that I shouldn't get involved since his problem had nothing to do with me. It was a little more vulgar than that, so I said to him, "Ease off the accelerator pedal, no need to be ticked off since we're all in the same boat."
An employee came by and assured the man that they were going to get some bags. "It's gonna take a few minutes. We all just have to be patient."
"Yeah, patient, you and that geek (pointing to me) should go and be patient together." To which I burst out laughing ... and so did the elderly man buying a sandwich in the checkout stall right next to the man.
Patience. It's not in big supply nowadays.
Yet within the Christian faith, patience is what our lives are centered on. None of us have seen Jesus, yet we believe He died for our sins and in Him we have eternal life. No one in this world has had an audience with God the Father, yet we believe in Him, that He created us and the world, that He sustains our lives, and loves us beyond any measure.
Without seeing Him and living by faith, we are compelled to be patient. As St. Paul says, we do not see God, yet we believe, and in that belief and hope we have patience. The fulfillment for us is something we can't see - eternal life with Jesus doesn't come on this side of eternity. It only comes when He calls us home. Until then, we live in hope with a patience of a saint. We live our lives to God's glory by showing love and grace in all that we do and say, but everything we do is centered on being patient.
In our lives, being patient, especially in these troubling times, is not easy. But our faith compels us to do just that: Being patient in the face of stressful times.
Today's Prayers
In your conversation with God today, please remember Jerry, the husband of Jody's friend Marianne, who is sick and maybe diagnosed with the coronavirus.
Also, take time to pray for:
All those who have been infected with this virus, that our Lord would provide for comfort and healing.
For all families dealing with loved ones who are battling this virus, that they be spiritually strengthened.
For all doctors, nurses, and health care givers, that they be protected from infection while they provide their best care for the sick.
For all scientists and researchers, that they work prudently to find a vaccine and treatments.
For all of our government, including our President, Donald Trump; our Governor, Phil Murphy; our County Executive, James Tedesco; for all our local officials in New Milford (Mayor Michael Petrino) and Garfield (Mayor Richard Rigoglioso).
For ourselves, that we be given patience and hope during this time.
For those facing difficult times as they lose jobs, lose businesses, and lose hope, that we, as a people, come together to help those negatively impacted by the ravages of the virus.
---
Music for Today
Read Previous Days